In addition to getting your child ready to go back to school with the usual gathering of school supplies and new shoe shopping, teach them these basic back-to-school prevention tips!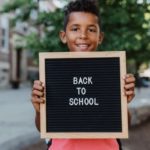 Playground poison safety: The poison center sometimes receives calls about schoolchildren eating plants or mushrooms they find on the playground. It can be very difficult to tell the difference between poisonous and non-poisonous plants/mushrooms; be sure to teach your children to never pick or eat plants or mushrooms they find.
School lunch precautions: To prevent food poisoning, make sure hot foods stay hot and cold foods stay cold during lunchtime. Encourage your child to practice good hand hygiene by washing their hands before every meal.
Medication Safety: If your child takes medication and it is administered during the school day, ensure that only the school nurse has access to the medication. Discourage sharing of medications with other students and vice versa.