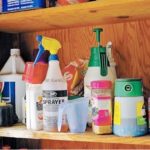 Pesticides and lawn products constitute one of the most dangerous summer related potential exposures.
These products can cause problems both when ingested but even with skin contact. Be sure that when using these products you are also using the appropriate protective clothing or equipment such as long pants, socks, shoes, long sleeves, rubber gloves, and eye protection. Be sure to remove anything from your yard that will go back into your house or have significant human contact, such as toys, pets, or decorations. Also be sure all children are left inside and are not let to play in the treated area until the product has fully dried or settled. It is incredibly important that you store these products in their original containers stored up and away from where children or teens can access them.
If you or anyone around you inhales, swallows, or has their skin or eyes exposed to any pesticide or chemical lawn product; clean or rinse the skin or eyes and call the Georgia Poison Center immediately at 1-800-222-1222.